Looking for polo shirts that fit well on shorter men? Here's a list of places that sell shorter length polos.
Shorter men often have a hard time finding clothes that fit. From jeans and chinos to suits and outerwear, most off the rack clothing is just too long.
When your clothes don't fit, it doesn't matter where you bought them, how expensive they were, how nicely they were made, or even what color they are.
They're not going to look good, and they're going to make you look bad.
Since most polo shirts don't have long sleeves, we (thankfully) don't have to deal with the annoying problem of sleeves being too long.
But we do have to think about the length of the actual shirt, from the collar down to the bottom hem.
Most polos were not made to look great on men under 5'9″, which means they'll go way past your waistline, down to the bottom of your fly (or farther).
This throws off your proportions and makes you look shorter than you actually are. Not a great look!
Luckily, there are a few brands that offer shorter length polo shirts, which I'll list below.
But first, how should a polo shirt fit?
How a Polo Shirt Should Fit
Like I said, the most important aspect of polo shirt fit is the overall length. But you also need to pay attention to the shoulders, sleeves and torso.
The shoulder seams should sit on top of your shoulder bones. They shouldn't hang down on your upper arms. If they do, this means they're too wide.
The sleeves should stop about halfway down your biceps. If they go past mid-bicep, closer to your elbow, they're too long.
They should be relatively fitted, as polo shirt sleeves are constructed with a ribbing that's meant to grab your arm gently.
If the sleeves don't grab your bicep like this, size down or start doing more bicep curls 😉
This is largely up to personal preference, but I think most guys look good in polo shirts that are fitted, but not tight.
There shouldn't be a lot of excess fabric around your chest and stomach, especially if you're a smaller framed guy.
If you have a belly, it's okay to go with a little more of a relaxed fit, but don't make the mistake of wearing a baggy shirt to hide your weight.
This strategy results in a shirt that's too big everywhere else, and it does the exact opposite of your intended effect.
Finally, the length: your polo should go past your waistband and stop right around mid fly (2-3 inches below the belt).
Do polos shrink?
Since most polo shirts are made from 100% cotton, or a mostly cotton blend, you can expect some shrinkage.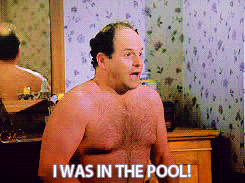 Some brands pre-shrink their polos, so be sure to check the product description page.
If a polo is not pre-shrunk and is made from cotton, you can expect it to shrink 1-2″ up (length, not width) depending on how much heat it's exposed to.
Can you get polo shirts shortened at the tailor?
Yes, you can get a polo shortened at the tailor. You can also get them taken in if they're too baggy.
Be sure to go to a tailor that has experience working with knit garments. Polos have some natural stretch, so they require slightly different equipment and skills to alter.
Where to Buy Shorter Polo Shirts
If you don't want to gamble with shrinkage (heh) or go to the tailor, here are some brands that sell polo shirts for shorter guys.
Ash & Erie
This is one of the best fitting polo shirts I've found so far. The length is great, and the fit is slim enough for my build.
Color choices are pretty limited, but I tend to stick with the basics anyway. The button chest pocket is a nice detail.
If you're under 5'9″ and haven't tried Ash & Erie, I highly recommend giving them a chance.
Under 510
Under 510 is another brand that's focused specifically on shorter guys, and they're trying to be more affordable than the competition.
Their slim fit short sleeve polo is available in five colors and five sizes. It has snap down buttons inside the collar to avoid curling (the flyaway effect).
This shirt is made from a poly blend – it's not a pique polo – and has a bit of stretch built in.
ASKET
ASKET doesn't make clothes specifically for shorter men, but they do offer different length for many of their tops.
So, for instance, instead of buying a size medium polo, you can buy a medium/short.
Their clothes aren't cheap, but they're very high quality, and the aesthetic is as refreshingly timeless in amongst so many fast fashion brands.
Think of ASKET as a higher quality Uniqlo with shorter lengths available in each size.
Peter Manning NYC
Like Ash & Erie, Peter Manning focuses exclusively on the shorter man. They have a couple different types of polo shorts, including a long sleeve version.
Their James Polo is a classic pique polo that's usually available in lots of colors during spring/summer.
In my experience, PM polos are a nice length for shorter guys, but they're not very slim fit or tapered from the chest down.
You can always get it taken in, but if you want a truly slim fit polo, this wouldn't be your best option.
Jimmy Au's
Jimmy Au's doesn't have an online shop, unfortunately, but they have a great shop in Sherman Oaks (a neighborhood in LA).
They carry a whole collection of clothes for shorter men, including suits, jeans, dress shirts, outerwear and, of course, polo shirts.
All of their clothes are made specifically for men 5'8″ and under, so the fit is on point. Here's me wearing shorts and a t-shirt from JA:
https://www.instagram.com/p/BTzZPEaAEu3/
If you live in SoCal or are traveling to LA, I highly recommend swinging by Jimmy Au's and checking out the shop.
Custom Made-to-Measure Polos
In addition to the ready to wear options above, there are a few brands who offer custom, made-to-measure polo shirts.
While MTM doesn't always work out perfectly, it's a good option for guys who really can't find what they're looking for off the rack.
Here's a list of companies that sell made-to-measure polo shirts:
There are likely more custom polo brands out there, but keep in mind: going custom isn't easy. You almost never get a perfectly fitted garment the first time.
So my advice is to try the ready to wear brands listed above before rolling the dice on MTM.
My Recommendation
Whether worn casually (untucked with shorts) or dressed up (tucked in with trousers), a well-fitted polo is a great look on shorter men.
If you have polos that are too long but fit well everywhere else, take them to the tailor to get them shortened.
You can also try washing and drying them with high heat to see if they shrink (warning: results may vary).
When you're ready to buy a new polo, try one of the ready to wear brands listed above.
If you really can't find anything that fits off the rack, go custom as a last resort.
Questions or comments? Leave them down below!