This is an in-depth guide to suits for short men that covers everything from how your suit should fit to where to buy shorter length suits.
When it comes to dressing the shorter body type, suits can be one of the most flattering garments a man can wear.
It can also make you look like a sloppy teenager, frumpy old man or kid playing dress up.
The key is finding a suit that fits and flatters your build. This is absolutely crucial!
But it's not necessarily easy, as the vast majority of suits aren't made with shorter men in mind.
Here's the good news: from specialty brands to custom suiting, shorter guys have more options than ever before.
So before you buy another suit, make sure to read through this guide in order to understand how a suit should fit.
After we talk about fit, we'll look at some options for where to buy your shorter suits and jackets.
How Should a Suit Jacket Fit?
A suit jacket is one of the most complicated garments you'll ever wear. It's important to make sure your jackets are comfortable and flattering.
Here's what you need to know…
Jacket Shoulders
Suit jackets can cost a pretty-penny to tailor. Small changes like adding darts aren't too big of a deal. But if you buy the wrong size in the shoulders, good luck.
If the tailor is willing to make alterations on the shoulders, there's no guarantee they'll be able to make the shoulder fit properly.
Oftentimes, shoulder alterations end up with unsightly wrinkles that make you look like a 16th-century diplomat.
Most tailors won't want to alter jacket shoulders, and if they do, it's going to cost a lot of money (with no guarantee of success).
The number-one thing you need to look for when buying a suit off the rack is the right shoulder size, as almost everything else can be altered.
The shoulder seam should end right where your shoulder bone ends, not where your shoulder muscle ends.
Many guys make the mistake of wearing suit jackets with shoulders that are too wide. A tell tale sign of overly wide shoulders are indentations in the sleeve just below the shoulder seam.
If you're not sure exactly how to get the right fit in the shoulders, do the wall-lean trick.
Your jacket shoulder should touch the wall at the same time your shoulder bone does. If the jacket hits the wall first and folds before your body touches the wall, you need a smaller size.
Alternatively, if your shoulder hits the wall, but the shoulder pads don't make contact, you may need a slightly larger size.
In the graphic above, you can see that my jacket is slightly too small. The seam didn't hit the wall at the same time my shoulder bone did.
Jacket Chest
You should never feel like you can't move in your suit. If you can't shock and awe the crowd at your cousin's wedding by doing the worm across the dance floor, your jacket is probably too tight in the chest.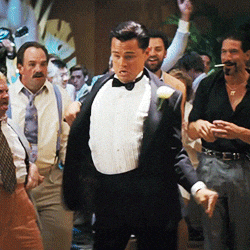 More often than not, guys wear suit jackets with too much room in the chest. We see this issue all the time with short and slender guys.
If there's too much fabric in the chest, it really makes the wearer look like he's borrowing his big brother's suit.
Jackets are sized based on the circumference of a man's chest. So a 38R is made for an average height guy with a 38″ chest, and a 38S is made for a shorter guy with a 38″ chest.
Especially in the United States, it's still very common to see men wearing suits that are too big. Most guys seem to think their chest is way bigger than it is, even if they haven't bench pressed in years.
If that describes you, your first well-fitting suit may feel like it's too snug. That's not a bad thing, so don't worry if your jacket fits closer to your chest.
As long as you can button your jacket without creating a huge 'x' pattern in the front, you're in the clear.
Plus, a closer fit in the chest creates a flattering 'V' shape, making you look taller, slimmer and more athletic.
Jacket Sleeves
With suit jacket sleeves, we want to pay attention to the length and the width. Let's talk about width first.
Sleeves should feature a gentle taper that follows the natural shape of your arm. They should be widest at the arm hole, near the shoulder, and more narrow around your wrist.
Most guys are wearing suit jacket that are too big for them, which means there's too much room in the sleeves. This makes your arms look smaller and skinnier than they really are.
Your sleeve should end just before your shirt cuff ends. When your jacket sleeves are the right length, you'll have about a quarter-inch of your shirt cuff peeking through.
Sleeves that are too long and don't show any shirt cuff really hurt your overall look, even if your suit fits properly everywhere else, so be sure to pay attention to sleeve length!
Jacket Belly
You jacket should be fitted, but not tight, around your torso. Buttoning the jacket should feel like a tiny hug.
If you like your jackets to have a bit more compression around your midsection, that's fine too.
If you're not feeling any compression at all, your jacket may be too big, although some guys do prefer a more traditional, fuller cut.
If you want your suits to stand the test of time, go for a classic fitted-but-not-skinny fit around the stomach.
How Should Suit Pants Fit?
Suit pants (or trousers) aren't quite as complicated than jackets, but they can still make or break how you look wearing a suit.
Here's a rundown of how your suit pants should fit, starting at the top.
Pants Waist
When your suit pants fit perfectly, there's no need for a belt or suspenders. They'll stay up on their own, especially when your shirt is tucked in.
If you feel tightness or pain around your waist when you sit down, your pants are too small. If you feel the need to unbutton your pants after every meal, they might be too tight around the waist.
Keep in mind, even thought perfectly fitted pants don't require a belt to stay up, you can still wear one. Many guys prefer wearing belts with any suit pants that have belt loops.
When going custom, we always recommend opting for side adjusters and/or suspender buttons instead of belt loops, as these create a more streamlined look (perfect for shorter guys).
Pants Seat and Hips
The hip measurement goes around the widest part of your thighs and butt. If your suit pants fit properly in the hips, they shouldn't feel tight or loose in the seat.
If you never skip leg day and have the buttocks of a mountain climber, consider sizing up, or else you run the risk of a major blowout when you drop your napkin at dinner.
Just avoid too much fabric around the hips, as this will create the dreaded "diaper butt" effect – not a good look on any man, regardless of how much you can squat.
Pants Rise
Getting your pants rise right is one of the keys to a great fitting suit. Get it wrong and you might end up looking shorter than you really are.
Pants rise is the distance from the top of your front waistband down to the crotch, then back up to the top of your back waistband.
If you take a look through Instagram, you'll see a lot of super-fashionable dudes who wear low rise, tight fitting suits. This is a trendy look that will seem ridiculous in a few years, regardless of how great your six pack is.
We like a normal (or mid) rise – something that sits above the hips and just below the belly button. This fit is classic and continues to look great regardless of what's in vogue at the moment.
Higher rise makes your legs look longer, which is typically a good thing for shorter guys, especially those with long torsos. They're also very comfortable!
Pants Leg
A few years back, the skinny fit trend made its way into suiting. Even today, many brands and influencers are wearing suit pants that look like they've been painted on.
But fit is subject to trends, and today it's common to see looser fitting, wide leg slacks that were the norm back in the first half of the 20th century.
We recommend avoiding either extreme and wearing suit pants that are fitted-but-not-skinny.
This silhouette worked a decade ago, and it'll likely work a decade from now.
Leg Opening
It's especially important for shorter gents to get a slight taper below the knee. After all, your ankles are thinner than your knees, so your pants should follow this natural shape.
The good news is suit pants alterations are easy and affordable. Getting the leg tapered is a common, cheap alteration that any local tailor can handle.
Pants Break
When we talk about break, we're essentially talking about the length of your trousers. If your pants go a bit past your ankle and fold at the top of your shoe, that's what we call "break".
If your pants don't touch your shoe at all, there's no break. And if your pants fall an inch or so above your ankle, you've got cropped pants.
There aren't any "fashion rules" about the amount of break you should have. It's totally up to personal preference.
At the time of writing, cropped and no break pants are in vogue. If you're reading this in the future (do we have hover-cars yet?) maybe cropped pants aren't as cool as they used to be. Maybe full cut, full break suit pants are back in style.
I personally prefer a formal suit to have a very slight break. It's not distracting and doesn't draw any attention. For a summer suit, however, I like the no break look on top of loafers.
The most important thing to avoid is an avalanche of fabric. You'd be surprised, but there are plenty of shorter gents who pick up suit pants that have so much break, they're baggy.
Since getting your pants hemmed is so easy – you can even hem your own pants – there's no excuse to wear pants that are too long.
Suit Fit Mistakes That Short Men Make
If you're a shorter gent, the number of problems you'll find when buying a suit are plentiful. Here are some common issues we see all the time.
Pants Too Long
The is the most common and most fixable problem we see. This make sense because it's easy to find suit pants with a 32" inseam, but nearly impossible to find anything under 30 inches (nevermind 25!).
Of course, many suit pants are sold with an unfinished hem, so they actually require hemming. Oftentimes, the retailer will have an in house tailor than can finish your pants to the perfect length.
Jut make sure to ask your tailor to create some taper too, as cutting off 6″ or more will reduce any taper happening below the knee.
Jacket Too Long
If you're under 5'9″ shorter length jackets (like 36S or 38S) might still be too long. This means they'll hang down past your butt and past your hands.
A suit jacket should just cover your butt. You should be able to curl your fingers under the bottom of your jacket while standing straight up.
If you can't do this, your jacket is probably too long, which will make you look shorter than you actually are.
Skilled tailors can sometimes shorten your suit, but you run the risk of ruining the proportions. If the final button of your suit sits right at the hem, it's going to look worse than it did when it was too long.
So pay attention to jacket length when you're trying on suits. Avoid buying jacket that need to be shortened by more than 1-2 inches.
Sleeves Too Long
You'll find this issue in almost every suit jacket on the rack. When brands design their suits, they're catering to the average man, and the average man has average length arms.
So for shorter guys, our only choice is to go to the tailor and get the jacket sleeves shortened. This can be an easy alteration, but if your sleeves have any working buttonholes, it's not such an easy fix.
Some tailors will simply refuse to attempt this alteration, while others are able to shorten your sleeves from the shoulder (a pricey job).
Where to Buy Suits for Shorter Guys
Now that you exactly how a suit should fit on the shorter body type, you're ready to buy the best fitting suit you've ever owned.
The only question is: where do you find that perfect suit that looks like James Bond but feels like pajamas?
Here are your options…
Off the Rack
Off the rack is the riskiest choice, but there are a few brands that do a great job with suits for men of modest stature.
If you're in Southern California and prefer to buy clothes in a store instead of online, Jimmy Au's is your best bet. They carry a wide variety of suits for shorter men and have their own in house tailors for any minor adjustments.
Suitsupply carries ready to wear suits down to 32R and 36S, which is a wider size range than most brands. Their quality is fantastic for the price, and their styles tend to be more fashion forward.
Jos A. Bank carries suits down to 35S (jackets) and 28 (pants) in a variety of different cuts. Are they the highest quality suits in the world? No, but fit trumps quality every time.
Custom Suits
We've tried a ton of different made to measure brands here at TMM, from big names like Indochino to smaller brands like Black Lapel.
Made to measure is a great option for us shorter gents because you'll get something that's a much closer fit to your body type without the cost of a full bespoke suit.
Going custom isn't necessarily easy, but if you're patient, it's a great way to get a suit that fits and flatters your frame.
Here are some MTM brands we've tried out:
There are many other options, and we'll continue to try out as many as we can here at TMM!
Bespoke Suits
If money isn't an issue, ad you can wait 2-3 months (at least) for a suit, buying a bespoke suit might make sense.
Bespoke is different than made-to-measure because it involves an extra step: the basted fitting.
Going this route costs a lot of money and takes 3-5 fittings to get right. But once you've got it, you'll be blown away with how well a suit can actually fit.
In a perfect world, every man would be able to experience the bespoke process at least once, but for now, made-to-measure is a great alternative.
Time to Suit Up
At this point, you have all the information you need to find the perfect suit for the shorter build.
Now it's time to get out there and suit up. No matter what route you choose – off the rack, custom, etc. – make sure you're not settling for an ill-fitting suit.
Done right, a properly fitted suit will be the most flattering garment in a shorter man's closet.