Have you ever tried on a leather jacket that fit perfectly, right off the rack? Me neither, until I got my hands on the Peter Manning Lambskin Leather Jacket.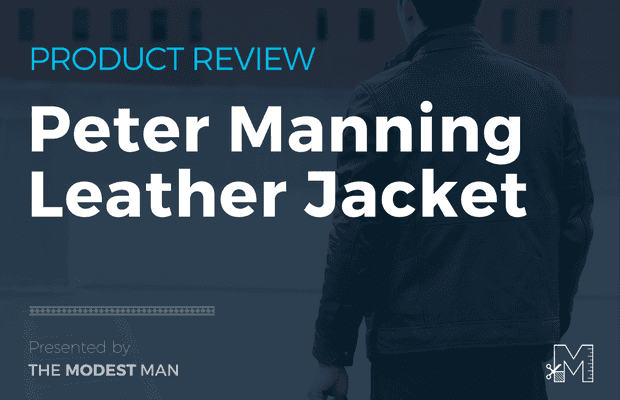 Shorter men have a hard time finding leather jackets that fit properly. The biggest problem is that the sleeves are usually too long.
---
Note: Big thanks to Peter Manning for making this post possible! Peter Manning makes classic American clothing for men 5'8″ and under. Check out their Lambskin Leather Jacket (a.k.a., my new favorite fall coat) today.
---
This is especially true if you're a heavier or stockier guy who needs to size up in order to find a jacket that fits across the shoulders and chest.
If you're 5'5″ wearing a size L or XL, the sleeves will be way too long.
Short and skinny men don't have it any easier. Even an XS is often too baggy and long for our modest frames.
Because it's so hard to find a leather jacket that fits well, many short men simply don't wear them.
And that sucks, because a nice leather jacket can be an important wardrobe staple (not to mention one of your most loved and worn pieces of outerwear).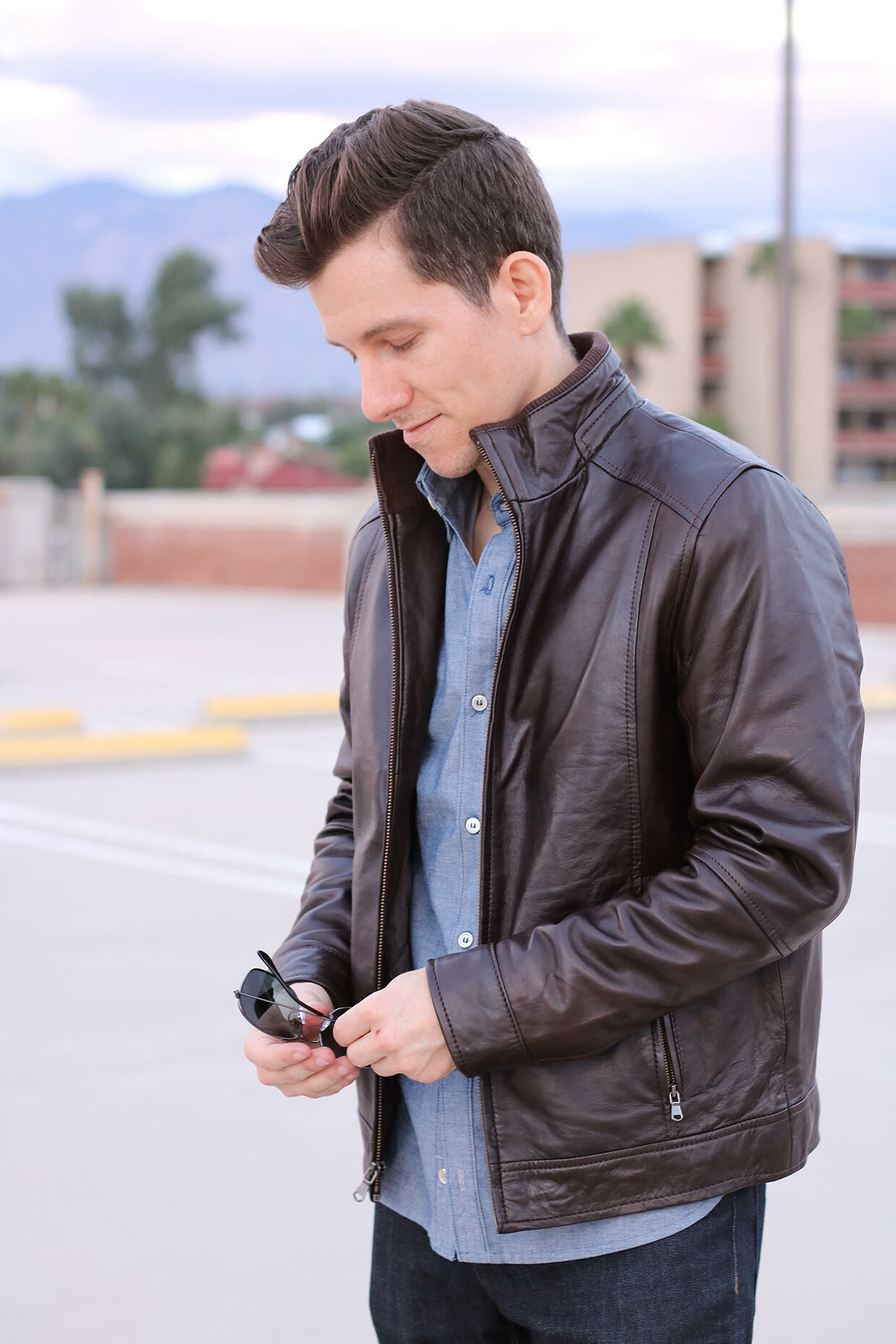 That's why I was thrilled when Peter Manning – a clothing brand for not-so-tall men – created a leather jacket specifically for men 5'8″ and under.
They sent me one in brown (size 1) to try on, and it's quickly become my go-to lightweight jacket – perfect for the fall season.
With leather jackets, you typically get what you pay for. Like any high quality leather jacket, this one is an investment piece.
Here are the specs:
High quality New Zealand lambskin
Knit bomber style collar
Quilted chambray lining
Double button cuffs
Two exterior zip pockets
Two interior pockets (one zip, one button)
Available in brown or black
The leather feels soft like it's already broken in. It's substantial but not too bulky – just the right amount of "heft" to it.
I got a the brown version, and it's a dark brown without too much red in it. It's a very versatile color, although black might be a better choice for you, depending on what colors you like to wear.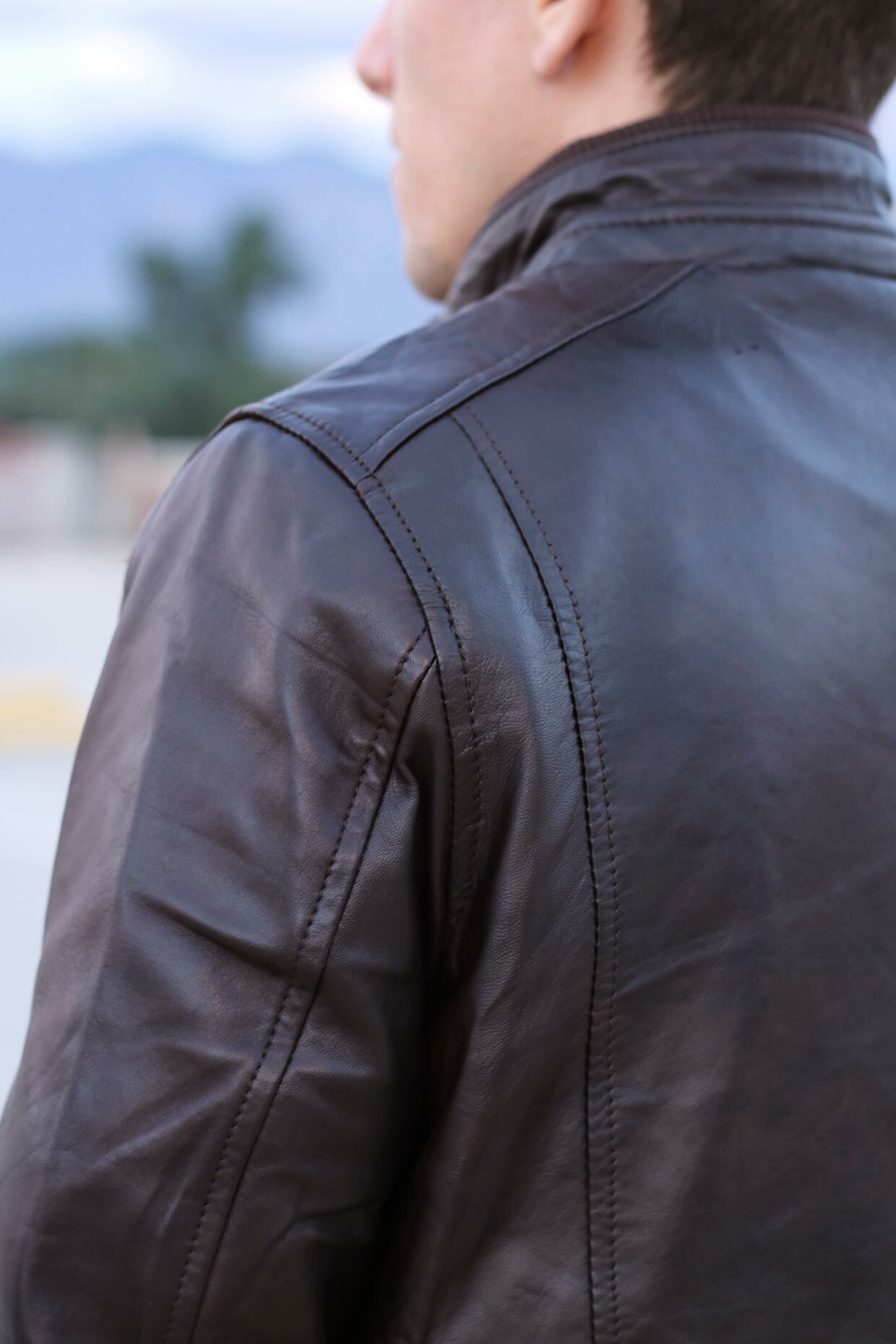 But the fit is really what makes this jacket special and sets it apart from any other leather jacket you can buy.
The length of the jacket is perfect. The sleeves don't need to be shortened (and I have short arms for a 5'5″ guy).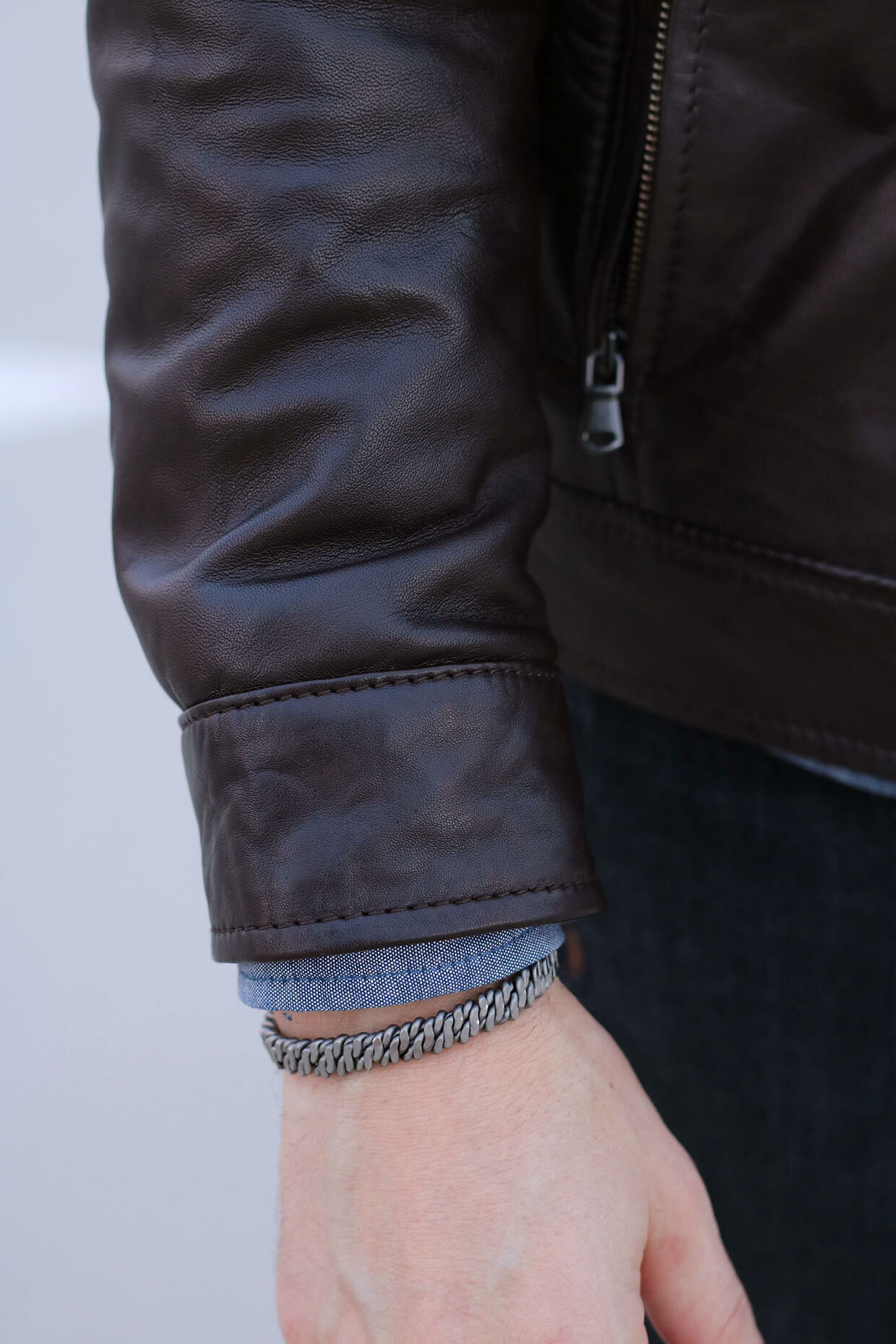 Plus, all of the little details, from the size of the cuffs to the height of the collar, are scaled down to flatter the shorter build.
Just look at that collar…perfection.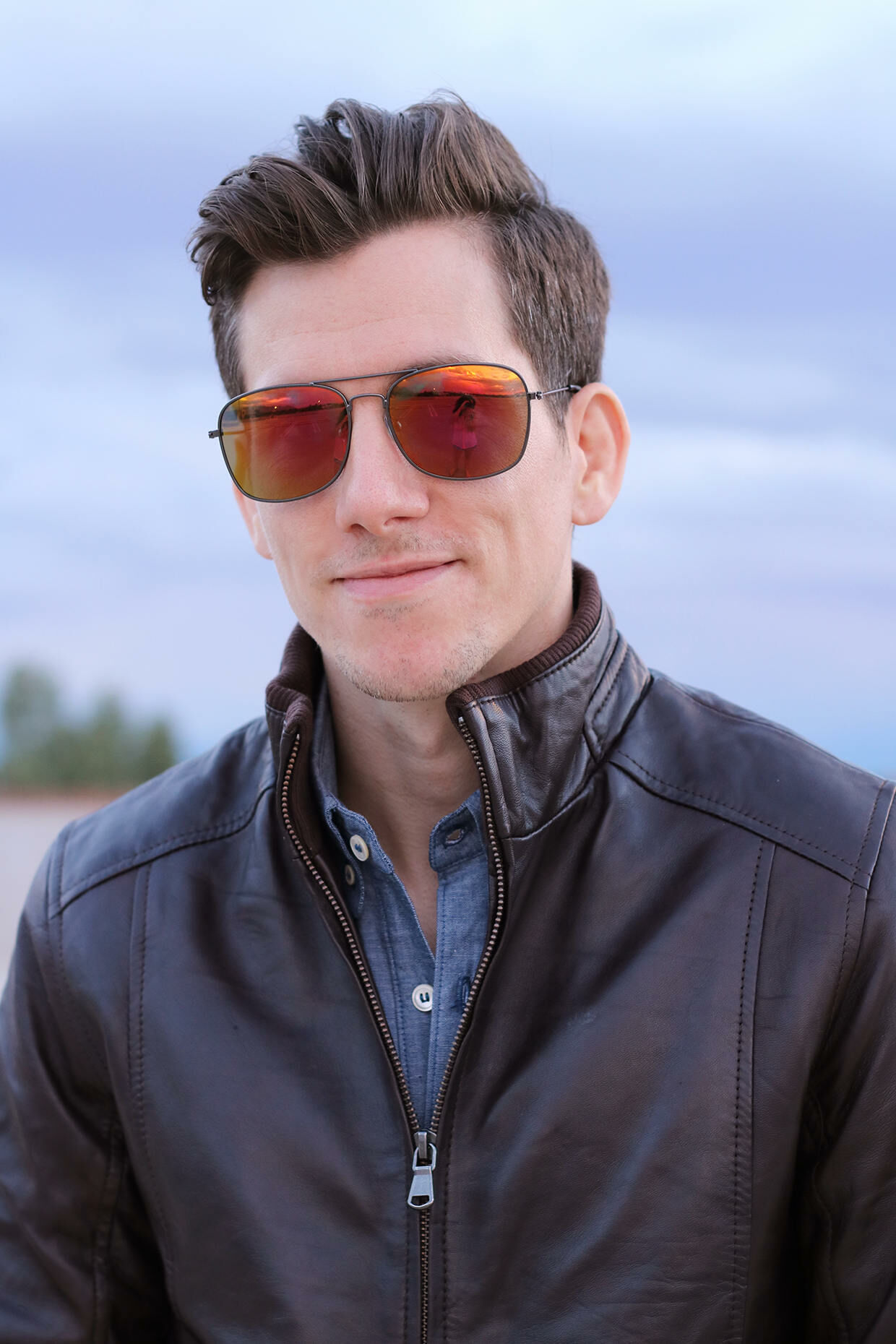 If you've been reading The Modest Man for a while, you know that I'm a big fan of Peter Manning NYC. I've been supporting them since they launched (just as they've been supporting me).
Although some of their products (like the Tribeca field jacket and James polo) have earned permanent spots in my wardrobe, I don't wear or promote everything they sell.
But let me tell you, my friend: Peter Manning has hit home run with this leather jacket.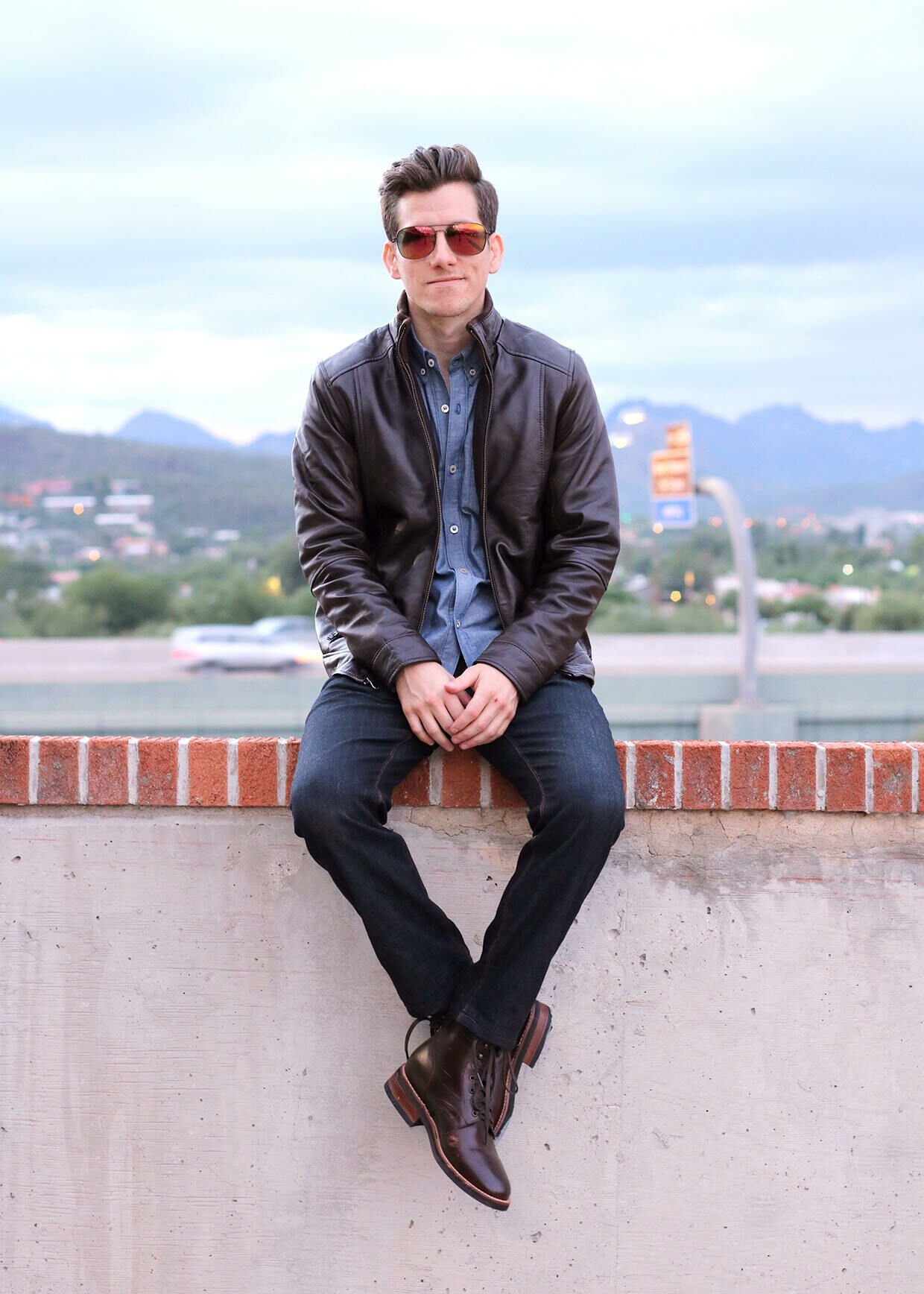 If you've never been able to find a leather jacket that actually fit, I think you should try this one on for size.
If you have any questions or thoughts about this jacket, leave a comment below!